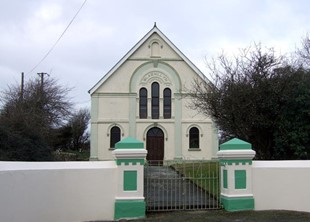 Blaenllyn Chapel is situated a few miles from Hayscastle heading for Mathry, the Chapel has a separate Vestry just across the road. Services are predominantly Welsh.
The non-conformist movement grew from strength to strength during the 18th and 19th Century. Services, Prayer Meetings and Sunday school were held in private homes in the Hayscastle area until 1843 when Blaenllyn Chapel opened. The Chapel was built on land given by the John Family of Trehale, Mathry who also paid for the costs of building the Chapel.
In 1919 Rev. Evan Williams came to the area, he was born in Angelsey, married a local girl, but unfortunately his ministry ended suddenly by his death in 1938.
Although now retired, Rev. G. Aled Jenkins still takes some of the Services.
Address
Blaenllyn Chapel
Mathry
Haverfordwest
SA62 5HY