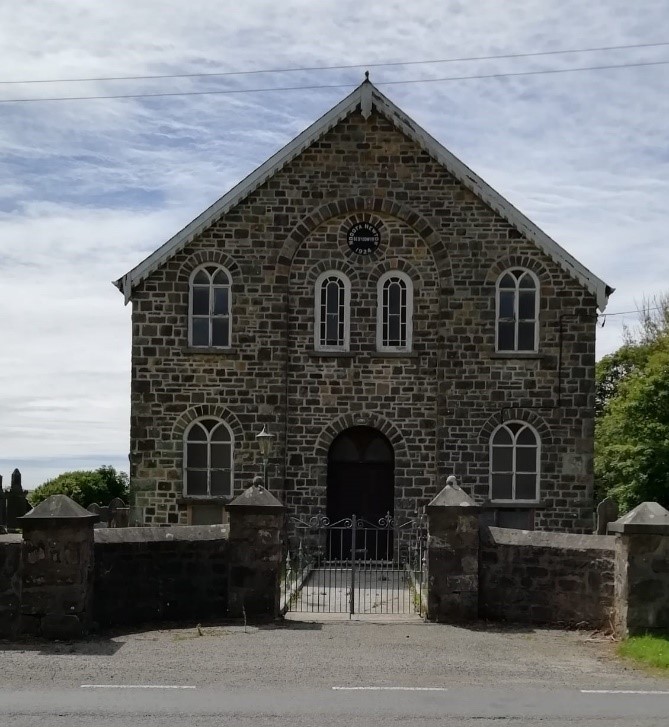 Capel Noddfa (Newton Chapel) is situated next door to Hayscastle Community Centre, the now Centre was previously the Chapel Vestry, where Sunday School was held for many years, also Prayer Meetings once a week and some local groups using it to hold their meetings.  Prior to this it was a stable. Many people still refer to the Community Centre as the Vestry.
Noddfa Newton Chapel was built in 1862, on land that was leased for 999 years from Mr Price, Newton West for a shilling a year. All the stones were taken from a quarry at Newton West and timber wreckage from Newgale and Whitesands beaches was used to make a gallery, pillars and windows. The seating was benches as it was also used as a day school. The Chapel was rebuilt in 1875 and again rebuilt in 1924.
Noddfa Newton Chapel celebrated its centenary in 1962 when the minister was Rev. Brynmor Davies, who served the two Chapels from 1946 to 1978. He is still remembered with affection in the locality by a generation influenced greatly by him.
In 1982 Rev. G. Aled Jenkins was inducted as Minister of the three Chapels. For more than 30 years he was minister and is still taking some Services now. He introduced Family Services and United Services and a Service on Christmas Morning. He encouraged all the local children to attend Sunday School, and with his wife, they produced a Nativity Play every year with many children of the area taking part.
Rev. G. Aled Jenkins also instigated a Community Carol Service, which sees every group within the Community take part. For many years Hayscastle YFC organised it, but now Hayscastle Community Forum arrange it annually. It is always well supported and everyone enjoys refreshments at the Community Centre (Vestry) after the Service.
Although Rev. G. Aled Jenkins has now retired, he and his wife are both held in high esteem in the Community. Services are held in both Welsh and English, and there is a warm welcome for anyone of any denomination to attend.
Newton Chapel Hayscastle Haverfordwest SA62 5PR