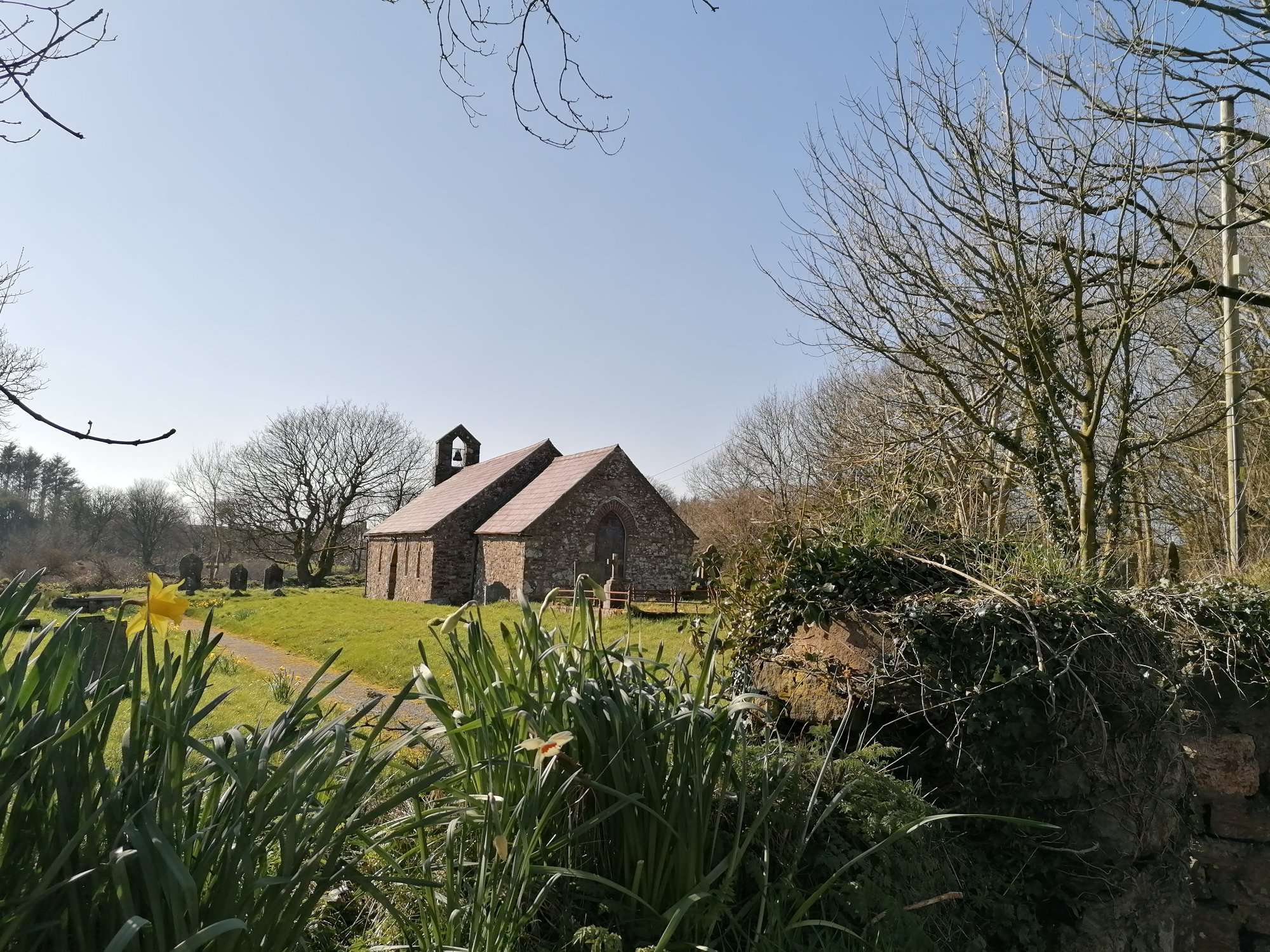 Wherever there is a castle in Wales the church linked to the castle will be dedicated to St Mary. Consequently, it comes as no surprise that the church in Hayscastle is St Mary's, even if there is very little evidence of the castle still in existence today. Hayscastle Church is 'amongst fields', next to farms and the old castle and approximately a mile-and-a-half from Hayscastle Cross.
The church consists of a nave and chancel. The details of the chancel arch suggest a 12th Century date, and this can also be assumed for the adjacent castle mound. The church was modernised in 1927. Curiously, the church was a dependent chapelry of St David's Church, Brawdy until the 17th Century. Although the church is of medieval origin, nothing of the present building is of any antiquity, but the font does date from the 13th Century.
Whereas many churches were restored in the second half of the 19th Century, the most substantial work on Hayscastle Church took place after the First World War. The architect was Captain DF Ingleton, MC, who had his offices in Victoria Place, Haverfordwest. Other commissions undertaken by Ingleton included work on Barclays Bank in Haverfordwest and, around 1918-20, work on Roch Castle.
Hayscastle is seven miles from the fortified town and fine stone castle of Haverfordwest, three miles from the stone keep of Roch, and ten miles from the fortified Bishop's Palace and earlier earthwork castle of St Davids. When the Normans invaded this south-west part of Wales, they initially penetrated the countryside by following river valleys inland from the coast, and they built earthwork castles to protect their gains. Hayscastle stands at the head of one of the small river valleys that run up from the large sandy beach at Newgale, some three-and-a-half miles distant.
There is no recorded history of the site, but the castle was probably the home of one of the Knights of the Bishop of St Davids. The present day remains of the castle are relatively slight and only those familiar with earthen castles would recognise the site as a medieval castle. The earthen motte, or castle mound, is of the flat-topped type and was big enough to house a self-contained bailey complex. It was oval in plan and still stands around twenty feet high on one side, but unfortunately has been dug away on the side towards the nearby Celtic (as opposed to Norman) style church.
Address
St Mary's Church
Hayscastle
Haverfordwest
SA62 5PU